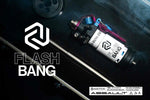 Amotion Flash Bang
The Amotion Flash Bang

With the Amotion Flash Bang you are not holding just any shisha in your hand - but the first of its kind. Let yourself be enchanted by the unique design and the breathtaking blowoff.
You must be of legal age to enter this site
This website contains adult material and is only suitable for those 21 years or older. Click Enter only if you are at least 21 years of age.
EXIT
STAY UP TO DATE
Submit your email to get updates on products and special promotions.